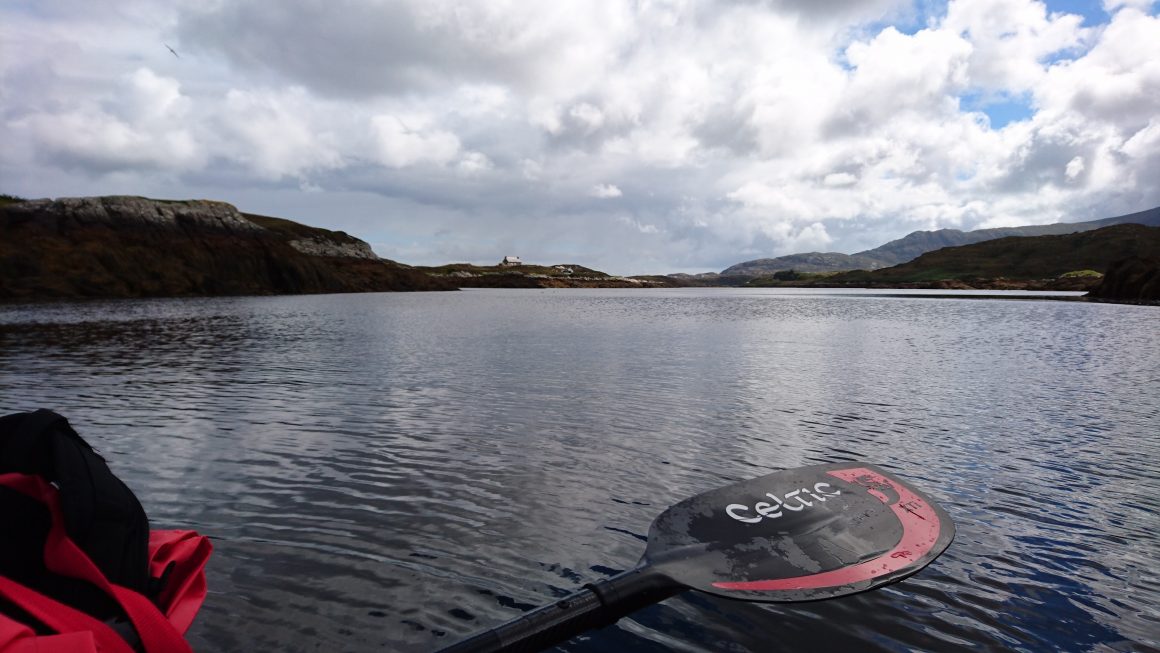 During a recent trip to South Uist, I had a few outings by Packraft and bike combo. Generally I have abandoned the bike at the end (complete with panniers and dry clothes), and then driven to the start. Its a great way of making linear boat trips with the wind/tide when you are on your own.
This trip was one I saw on the map, and then went and googled to find that it had been previously blogged and was recommended. The weather was half decent, the wind would be on my back in the boat and in my face on the bike, and the tide was going out. After leaving the bike, I drove to the start where there is plenty of parking.  I got the boat setup, something I have now got down to about 15 mins, and set off across Loch Bi, with views to Beinn Mhor all the way. The route passes through several narrows, and wider Lochs before arriving at a 10ft tall concrete wall.
The wall (flood gate) means that the tide in Loch Bi is delayed vs the other side, and there was quite a flow through the gate. There was no easy get-out at the actual gate (given a higher water level, I think there would have been). I got out about 30M before, and portaged to the flood gate, and then beyond as the slippery get-in beyond the gate was likely to see me in the drink sans boat!
Given a 10M length of rope, the boat could have been lead from the bank, and hauled over the gate. I got out on the right – but in hindsight, left would have been better. I failed to get a pic of the actual floodgate!
There's a nice wee run once you do manage to get back in your boat down to the sea proper. From here it was a few straightforward KM to the abandoned bike. I opted for a wee tour of Loch Sgioport – plenty to see here, until the weather turned to shite and I went to find my previously abandoned bike!
The trip back to the van was not bad, the sunshine returned and the headwind dropped.
I made a wee video of the trip here:
If you goto Google Maps, and drop your wee man on the dots in this area, you'll see some of the 360 photos I took. eg: