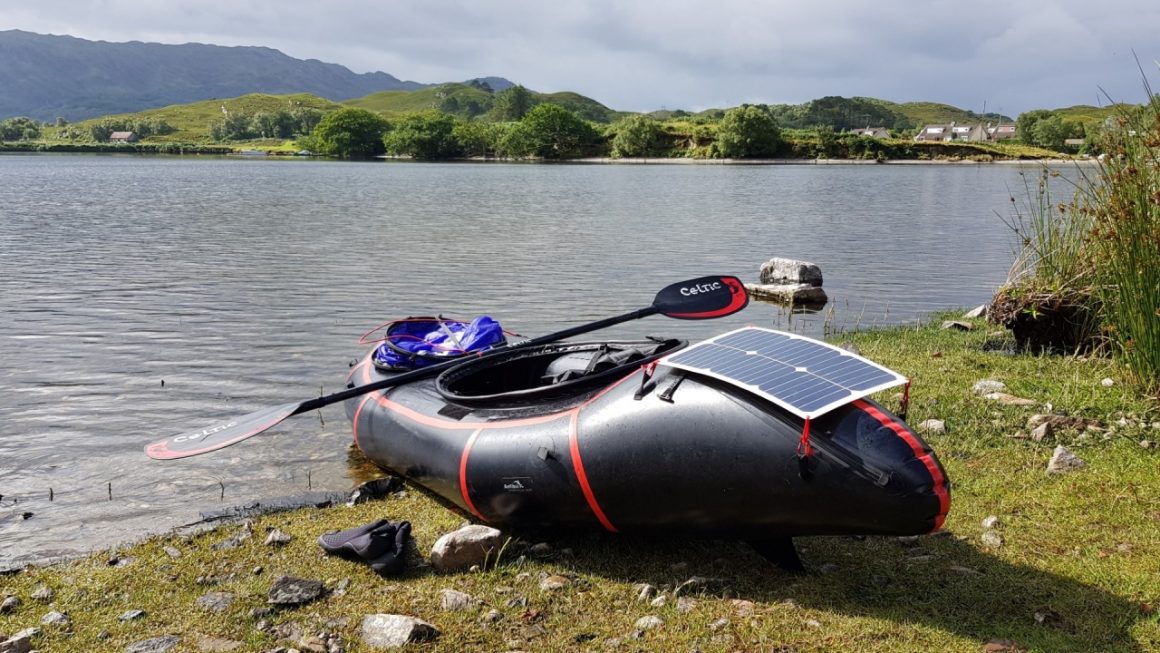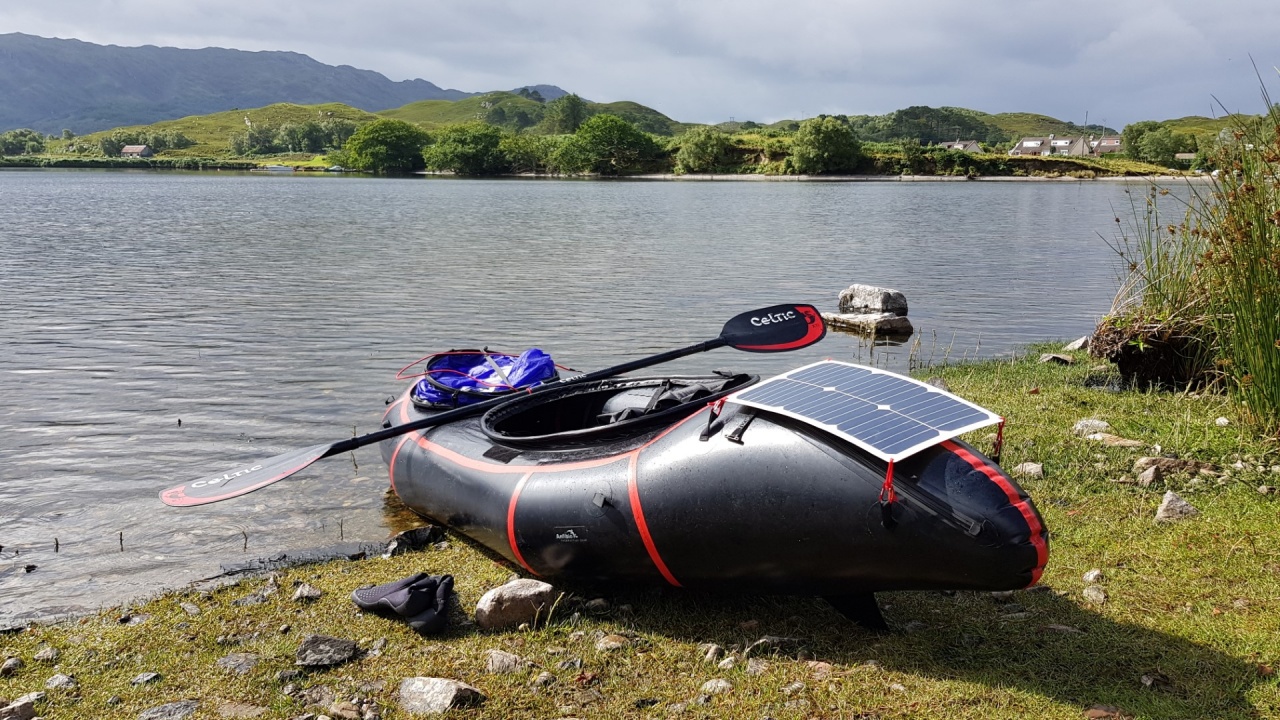 I have been planning on doing this packraft trip for a while, and while on holiday recently, got the weather window and wind direction required to make it go. If you take a quick look at the map, you'll see that with a bit of walking and a lot of paddling, the three Lochs: Morar, Arkaig and Lochy can be linked, and the journey completed to Corpach via the Caledonian Canal. From Corpach, the train gets you right back to the start.
Not wanting to leave my camper van in some layby to get pillaged by skum, I booked into a handy campsite some 6 miles from Loch Morar for 4 nights, planning to set off on the bike the next day.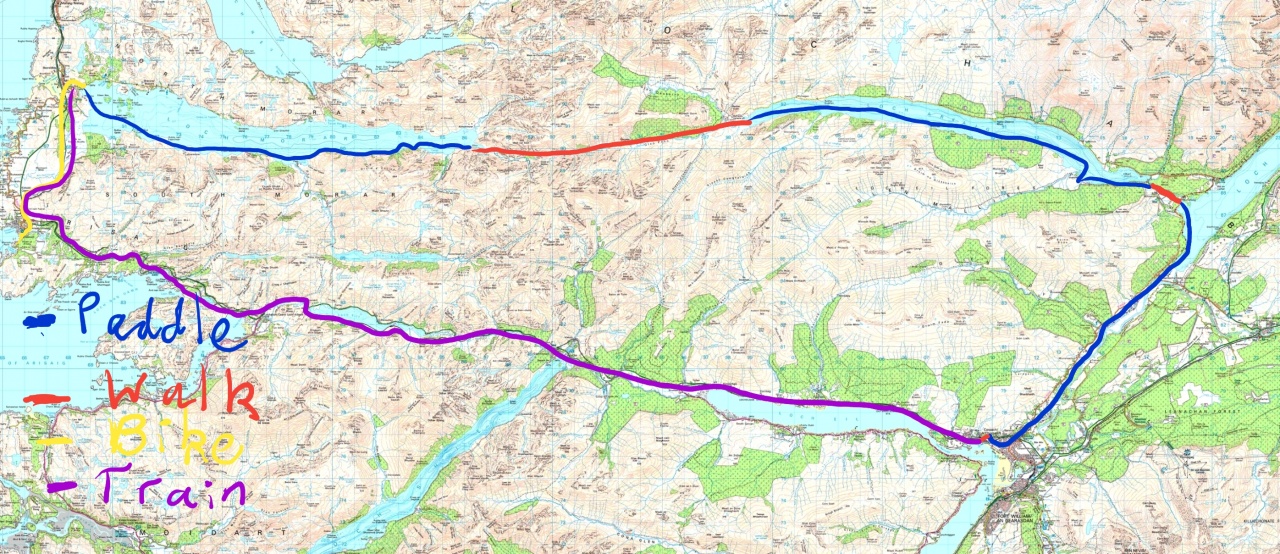 Tuesday 24th July
I was late leaving, faffing about what to take, knowing I had to carry it for 20-odd KM (my packraft ain't the lightest), the bike got ditched at Morar station, and a mile's walk got me to a handy launch spot on Loch Morar.
I would have loved to have visited the islands on Loch Morar, and in hindsight, a wild-camp on one of the islands would have made for a good launchpad for the trip. I rounded the islands and paddled along the southern Loch shore, shadowed by a powered boat which appeared to be visiting all the wee beaches retrieving trash dumped into the loch… At this point you get a view right down the loch – its a bloody long way!
After about 10KM, I reached the pier near Meoble, the remote, road-less settlement on Morar's south shore, and found a nice wee rocky island for lunch.

Meoble
After lunch, the wind picked up. A decent South-Westerly getting blasted up the loch. I pulled the string for the Windpaddle Sail, and set off. Way faster than paddling, at one stage I was briefly getting 15KpH! Arse-Ache, and stiff legs forced a landing about 4KM before Oban bothy, and I had an entertaining paddle against the wind and waves to get back out onto the loch again, but the spot was idyllic, and the sun was out.
Loch Morar
Oban bothy does not come into view until you are on top of it. I was beginning to wonder if it indeed was there as I was fast running out of Loch! I managed to sail right up onto the stony shore, and 2 trips later, I had my kit and myself installed in the bothy.
Oban is without doubt the best situated bothy I have stayed in. I had the place to myself, and it does feel proper remote (for the UK). Escape to the west into the wind would have been a nightmare which increased the feeling of remoteness. The bothy has 2 rooms downstairs, as well as a huge sleeping area with the best views upstairs. I dug out the drone and camera to capture the scene.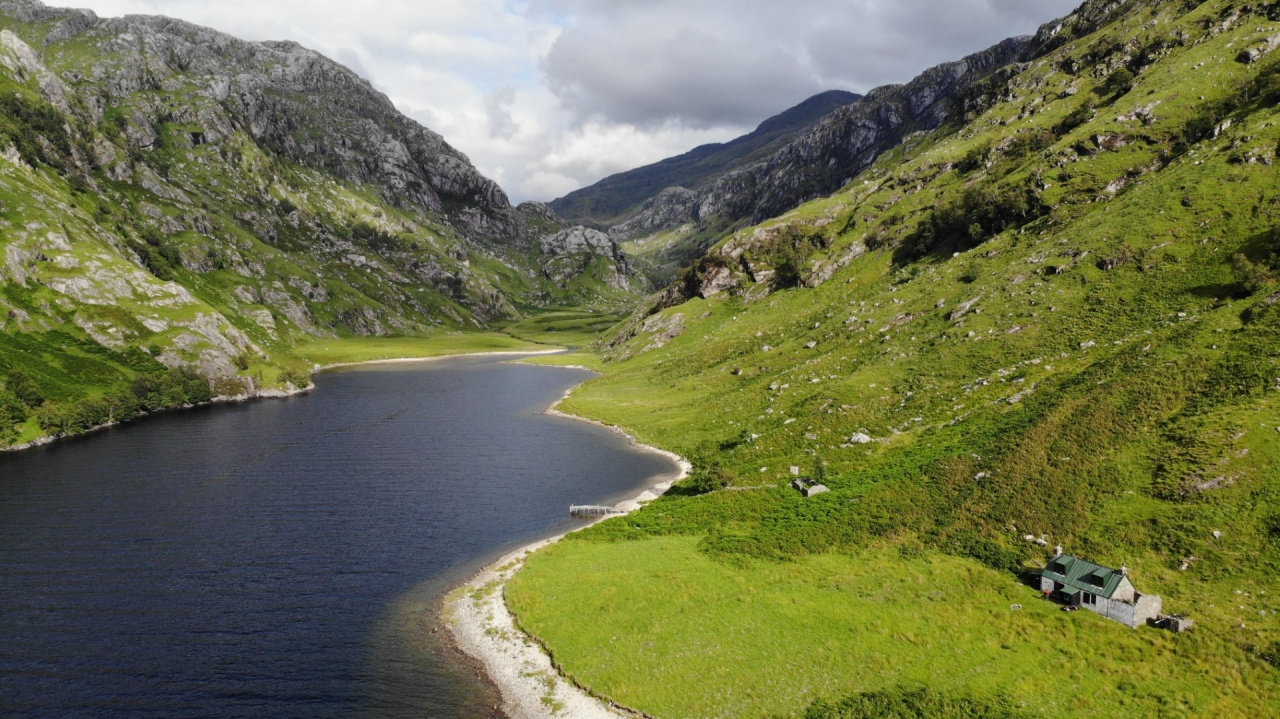 Oban Bothy
I had been in two minds about staying at Oban. A wiser decision might have been to walk to Glen Pean bothy for the night, but having seen the spot, I had to stay.
I was on dehydrated grub for this trip to reduce the load, can recommend the main meals from Decathlon at £4 a shot as well as the 'Food On The Move' Rice Pudding with Strawberrys! Their hot Lemon pudding is utterly disgusting though.
I entertained myself with a bothy tidy up, and then headed off to bed.
Wednesday 25th July
Day 2 began at 07:30AM with a 13KM walk via Glen Pean to Loch Arkaig. Its a grand glen with plenty of interest. The path being well defined apart from a couple of KM.
Lochan Luem an t-Sagairt, at only half a KM long did not seem to be worth getting the boat out for. The 'path' is awful though. Its on the south side of the lochan, very vague and very steep. Next time I think I would dig the packraft out.
Lochan Leum an t-Sagairt
After about 2.5hours of steady plodding, I reached Glen Pean bothy where I had a second breakfast. Shortly after Glen Pean, the track becomes a big, wide estate track which made for faster progress.
Glen Pean Bothy
It was mid-day before I had the packraft setup, and floating on Loch Arkaig. The weather was playing ball, and the wind was with me.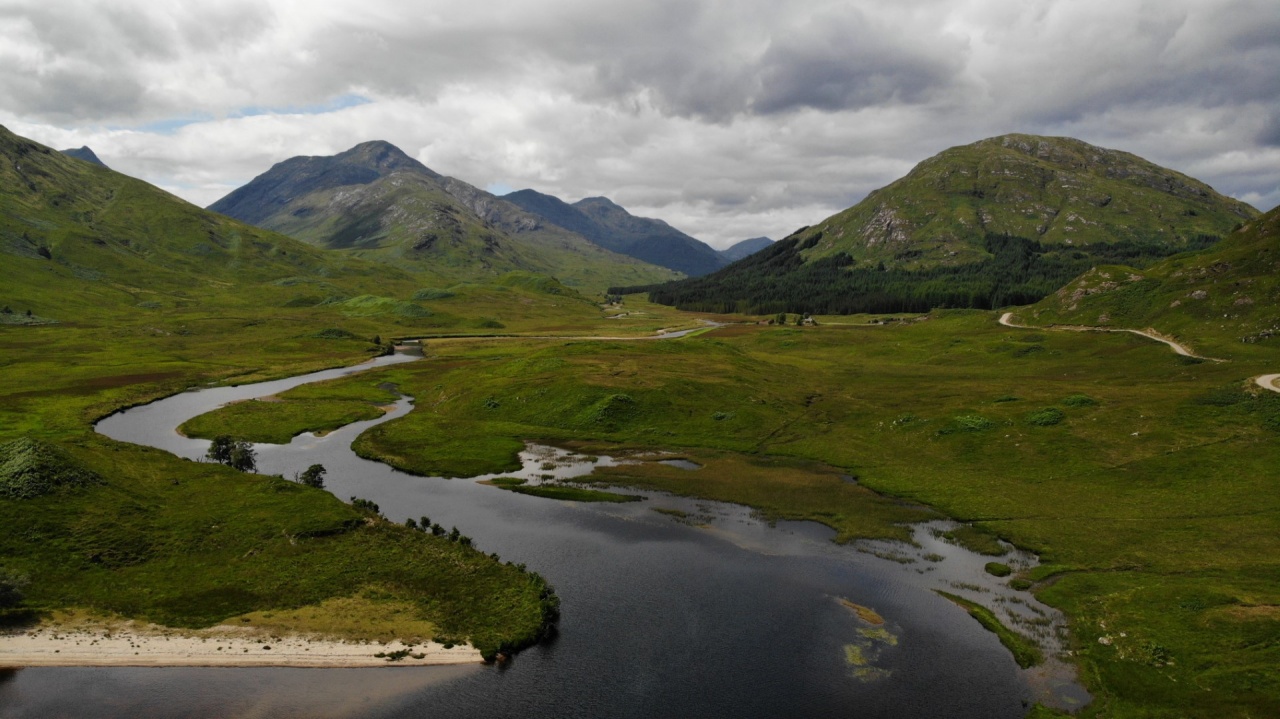 Loch Arkaig
With the packraft now taking the load, and, my shoulders getting a rest and the wind (strangely) behind me once again, life was good!
Loch Arkaig, with its road on the north side, occasional dwellings, and a huge number of run-of-river hydro schemes under construction will never feel as remote or special as Loch Morar.
I had about 15KM to paddle on Arkaig to Invermallie bothy where I was spending the night. I was able to sail a good half of this distance, often at a pretty decent speed. I stuck to the more remote, southerly shore, which sports a number of nice looking camping spots.
At the half way point, I stopped for a rest and second lunch. I was back to paddling again as the wind had dropped, and fatigue was setting in. I reached the shore at Invermallie at about 6PM. 10.5 hours after leaving Oban Bothy – which I did not think was bad at all.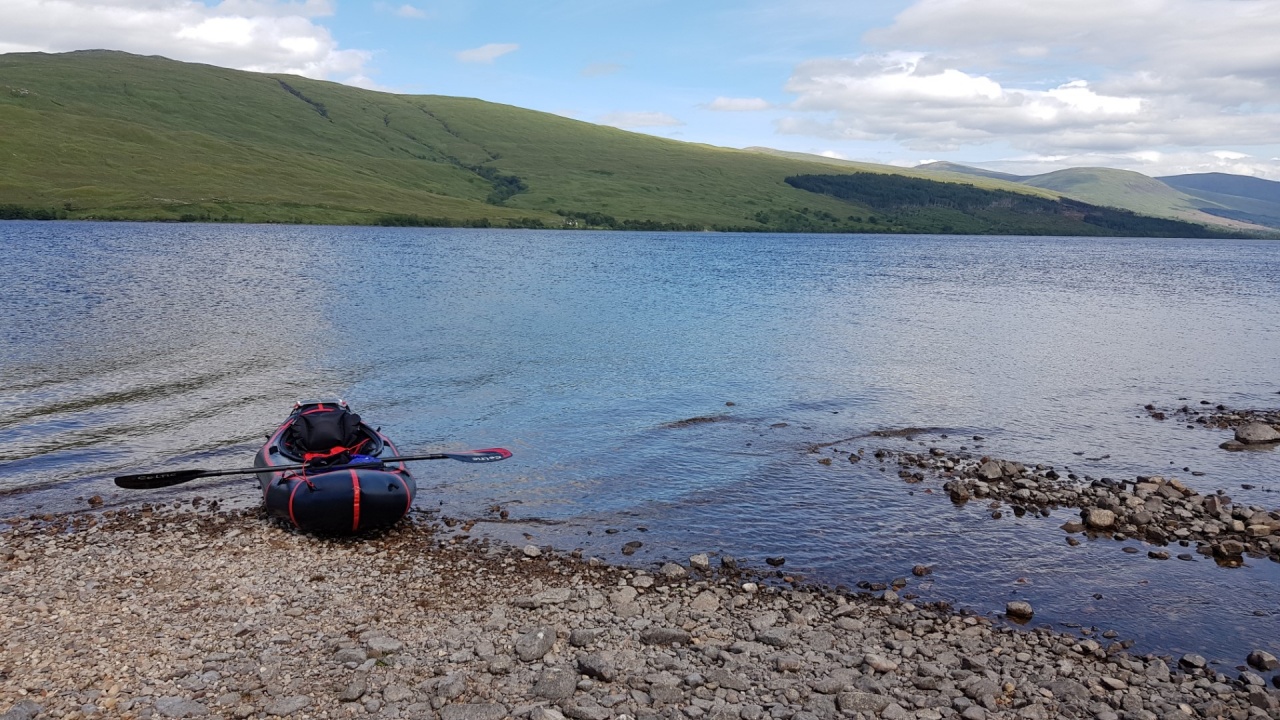 From the shore, Invermallie Bothy is invisible, indeed, it is actually a couple hundred metres inland. I dragged the boat up the pretty dry river bed that is the River Mallie (this fills in spate, so pull any boats way up onto the grass!). A couple of trips saw me setup at the bothy.
Invermallie Bothy
I hadn't slept that well the previous night at Oban – don't know why, but I never sleep too well in bothys. Tonight I opted to pitch the tent (a 780g superlight tent that goes up with the paddle shaft, and cost me £89 from Amazon). The midges were about, and so I was grateful for the bothy for midge-proof cooking and somewhere to sort out my stuff. I was alone at the bothy, and this party animal was in bed for half nine!
Thursday 26th July
Last day, and I was looking forward to a shower. A cold wash in the loch followed by wet-wipes not having done much to numb the stench!
There was actually 3KM of Loch left. I set off at 8am, but I was wary of getting my 16:30 train (next train was not until half 10 and I really wanted to finish the trip by train rather than by bus). In short, rather than paddling, I packed everything up and walked the undulating lochside track to the end of Loch Lochy.
At the East end of Loch Arkaig, the river Arkaig flows 3KM into Loch Lochy. I had read up on this before leaving. Its grade 2/3 with a weir (easily portaged) that gets grade 4. I decided against it on my tod and set off along the road the 2KM to Loch Lochy passing a few interesting buildings on the way. (https://www.ukriversguidebook.co.uk/rivers/scotland/west-highlands/river-arkaig).
I reached Loch Lochy at 10am, and found me a spot to launch the boat. I was right to be wary of the time, as there was a southerly blasting into my face that would also slow down progress down the Caledonian Canal.
Loch Lochy
I paddled south, sticking pretty close to the shore for the limited shelter from the wind that it offered, the views across the loch to the Grey Corries Aonach's, CMD and Ben Nevis were spectacular.
I soon reached the canal entrance, which is where the boredom set in!! Does anyone actually derive any enjoyment out of paddling up a ruddy canal?! With more water, the river lochy would have gone instead, but I feared a time consuming journey today hauling the boat over the shallow bits, so the Canal it was. Passing the Moy bridge provided some respite from the boredom as did stopping to take some photos every now and again! The wind was manageable strong gusts rather than continuous thankfully.
Caledonian Canal
Eventually the end of the Canal at Neptune's Staircase came into view, a welcome sight indeed.
Kit was packed away for the last time, and I went to find a beer and some food! I stunk so outdoor seating was a must.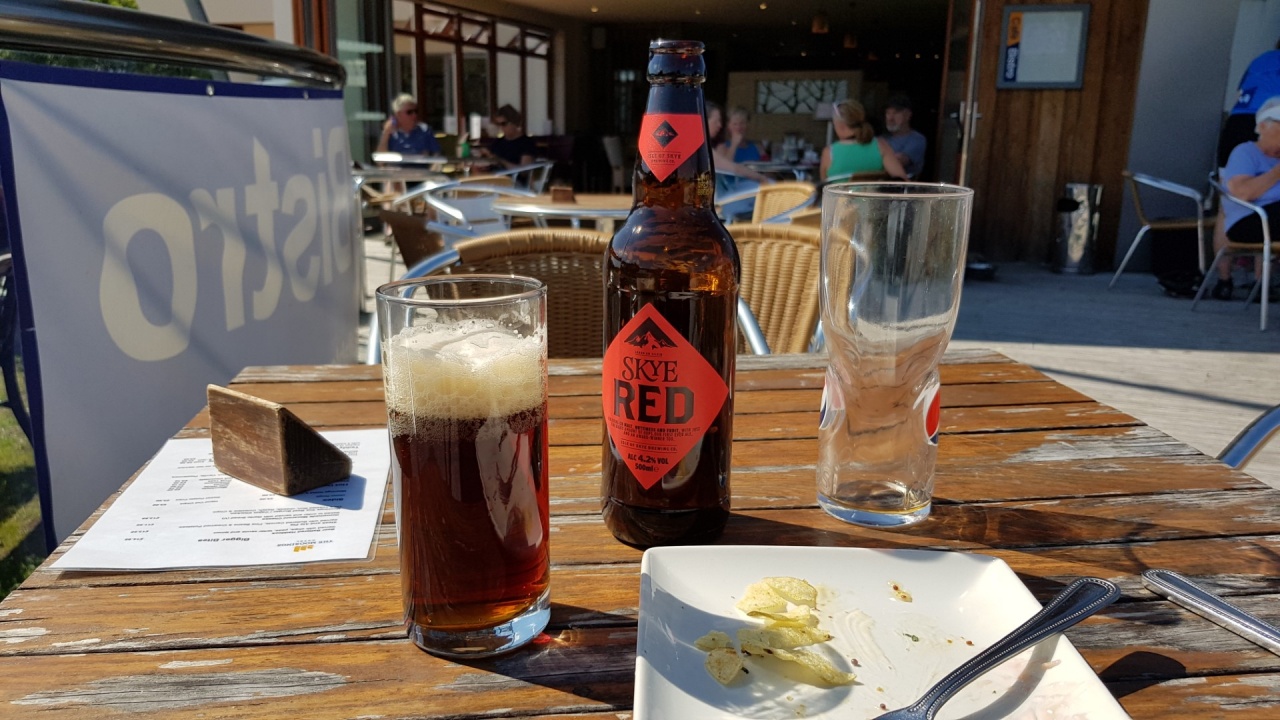 Banavie, rather than Corpach station was closest, and my favourite train company, 'ScroteRail' were on time. Nice views on the way back to Morar, then 6 miles on the bike back to the van for that dream shower!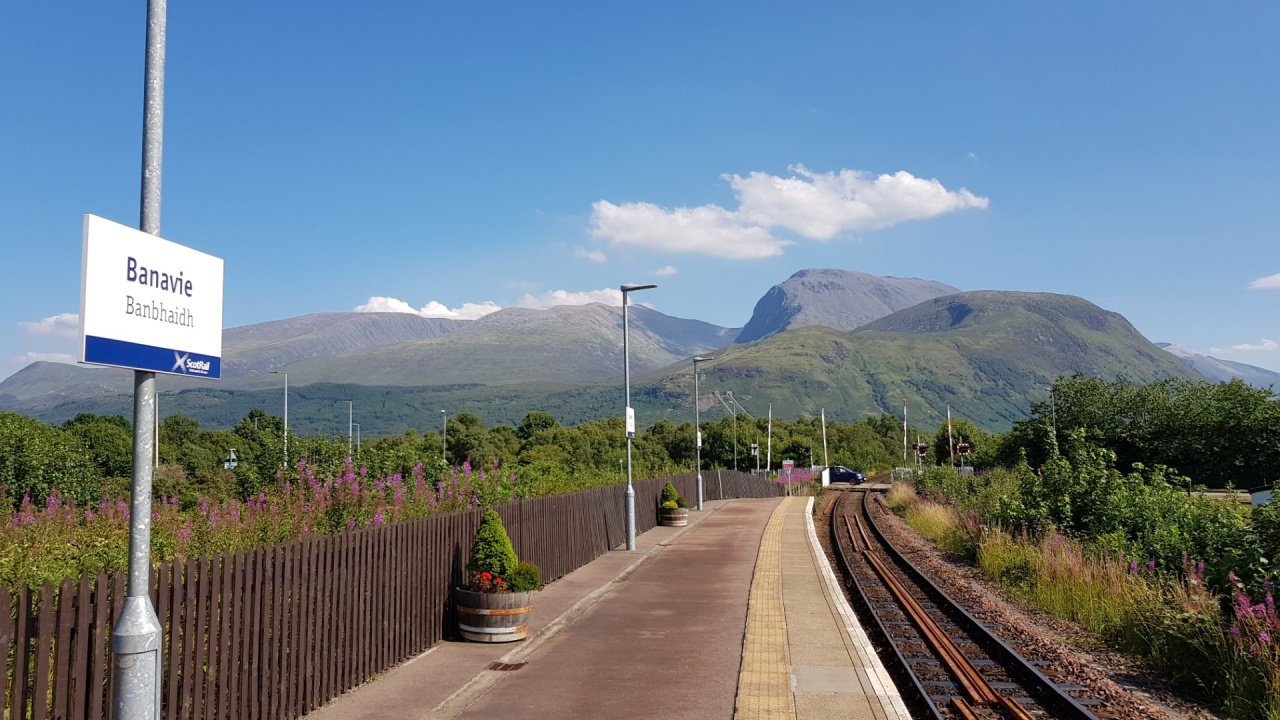 A video will follow, once I get on a PC that I can edit the footage with.
Would I recommend it?
You bet ya! Among the best trips I have done all told.
Handy Tips!
The distances ended up: 12KM on the bike, 46KM paddling and 20KM walking
It would have been better done in reverse (given south-easterly or easterly winds), In that direction, you would get the boring canal over and done with quickly, (although you would not have the opportunity to paddle the River Arkaig). The trip would then build in remoteness and excitement as it progressed.
The super-fit could do this with a single overnight stop in two long days, perhaps camping the night west end of  Loch Arkaig after an early start.
The River Pean was paddle-able in parts (on the Arkaig side after the bothy, flowing into Loch Arkaig). It went from very deep to very bony! This has been a dry summer though so with more water, it would go. There are few rapids and nothing over grade 1 (2 in spate).
The river Arkaig would have been a better link than foot, I would have done this given some company. Water levels looked OK.
The trip could be extended using Loch Eil, the train could then be picked up from the west end of Loch Eil. This would add on another 14KM of paddling.
The Moorings Hotel cafe is conveniently placed on Neptunes staircase with decent food+beer+ice cream!
There is 4G with EE west end loch Morar. There is then NOTHING (Not even 2G) until you reach Achnacarry (East of Loch Arkaig). Calling for help would be impossible without a PLB (Personal Locator Beacon). In the event of a serious emergency, getting to one of the three bothies on the route and waiting for someone to show would be your best bet.
River Lochy depth gauge is here. It was close to its record low when I passed, hence the (boring) Caledonian Canal instead!
Other Attempts at the same Journey
Another take in the same trip – done by some nutters with Canadians – they took over a week at it including 3 days to get the boats through Glen Pean. Proper nuts is that! https://bealers.com/2015/05/16/loch-morar-to-loch-arkaig/
Kit List
This is what I took, obviously your list will vary depending mainly on your gadget addiction!
Equipment:
Food and Cooking:
Clothing:
Sleeping:
Gadgets: