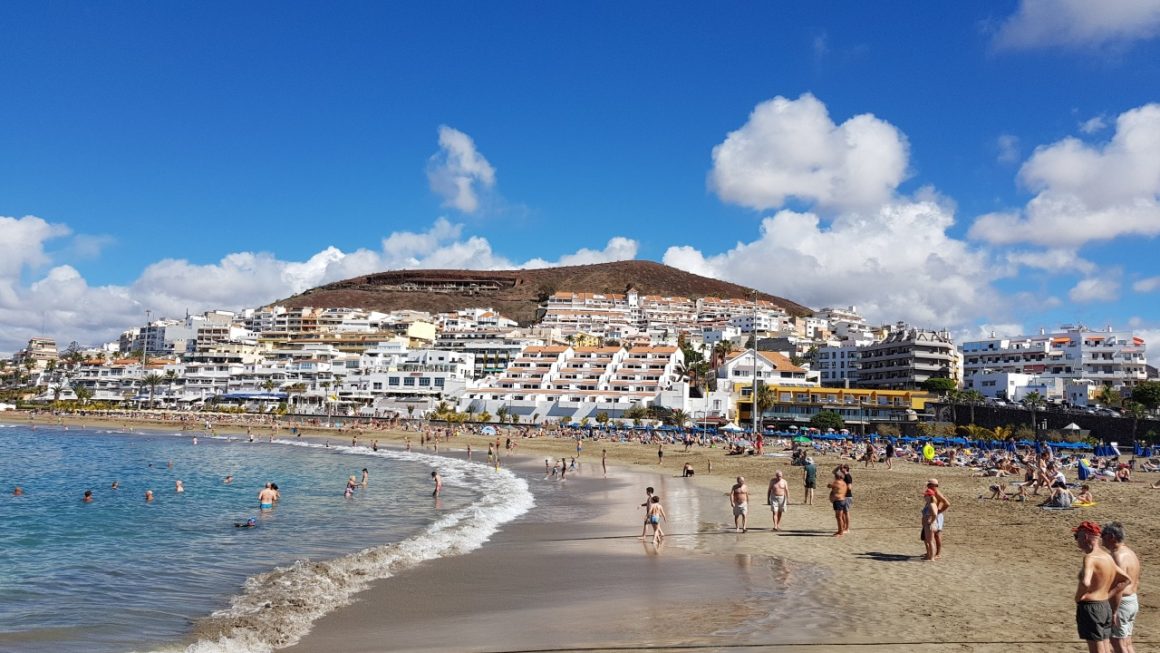 I got the chance of a short break in Tenerife for a few days at the end of Feb. My old man and not-so-wicked stepmother had a spare bed in their holiday abode where they had been hauled up for the past 5 weeks.
I had been to the Canaries several times previously, Tenerife aged 12 and 17, and Gran Canaria aged about 27. It would be interesting to see how much the place had changed. ScroteRail+Tram+Easyjet+Bus got me there without bother and I met up with farther + Gill. Compared to Scotland it was nice and warm, but alas I appeared to have carted the rain with me!
I had carted out my Packraft so it was time to get it in the drink. It looked calm from a distance and on the Los Christianos Webcam – unfortunately this was not the case when I arrived down at the shore! There was no way I was going to get out among the breaking waves – and even if I could, getting back would be far worse. I headed along the promenade and found a calmer spot by the breakwater where I could get out/back without too much hassle. Once out past the breakwater, the swell was running  6-7ft – the sea always looks much calmer when you look at it from the shore! I did not stay out very long, and as it turned out that was the calmest weather I had for my entire trip so the boat never got wet again!
I headed back, dumped the boat and got my hill walking kit on for a wee walk up the local hill Guaza Mountain – at all of 428M. What it lacked in height, it made up for in views with the islands volcano Teide popping out of the clouds. I had wanted to climb Teide, but the winds and snow were keeping the cable car off, and I lacked the necessary permit + there were other must-do's somewhat closer!
I had a nice walk in 22C temps to the top. The top is a bit ugly – several transmitter masts, but as a nerd I was amused by the total lack of antenna planning, and all the consumer-level point-2-point wifi links in service up there! I have also recently bought a drone (DJI Mavic Air), so it was time to put this to use getting some photos and 360's.
The next day was market day, which was cancelled due to the manky weather. I went for a wander and some retail therapy, and that was about it – thankfully the decent weather was back for Monday.
I was up Early Monday for first of three buses at 07:25 heading for the wee hamlet of Masca out beyond Santiago del Teide. This is home to the famous Masca Gorge, likely Tenerife's 2nd most popular non-resort thing to do after climbing Teide. Apart from the buses being late, I got there in reasonable time for 9:30am, with the last bus back being 16:15.
Given the rain of the previous day, there was quite a bit of loose rock about the place, and a huge amount of water running in the gorge. The route can normally be done with dry feet, but given the volume of water, there was no chance this time – the route must have crossed the river 20 times each way and I was sodden! Grand walk though down a stunning gorge in decent weather. The dodgy forecast had also kept most tourists away so I got it at its best, rather than mobbed as it would be in the summer.
I had a half hour on the stony beach; usually its possible to get a boat to Los Gigantes from here – not today though – the sea was far too rough. My original plan (and main reason I brought the Packraft) was to drag it down the gorge and kayak back to Los Gigantes. That's one for another time when I get better weather as it would be a superb paddle.
After some lunch, it was time to walk back out for the bus. I managed a beer before the bus and all three buses back to Los Christianos were a good hour behind schedule. Photos and video below:
The following day the weather was a bit of an unknown so after visiting the market, I just went for a local walk along the front. The sun came out and I found a spot on a rocky beach – well away from the crowds on the deck-chairs – and soaked up some vit D for a while.
Once suitably sun-burnt, I went for a wander down memory lane, locating the hotel I stayed in in Las Americas when I was 12 – 'Playa Honda' – now privately owned apartments, the restaurant we ate in one night 'Marco Polo' (notable for it exceptionally slow service – took over an hour to get the starter), and the hotel in Los Christianos where I stayed aged 16 – the 'Princesa Dacil'. Back when I was 12, there was a good 3 mile stretch of volcanic desert separating Los Christianos and Las Americas – sadly the whole lot has been built on to the extent that Los Christianos and Las Americas are now effectively joined. I suspect this occurred soon after my visit back in the early 80's.
That night was my last night, so I took the oldies out for some grub at a local Mongolian restaurant they suggested
The following day, I was flying home. The weather warnings from Easyjet came thick and fast through the day, with the flight delayed by over 2 hours. Some weather had headed into the UK from Siberia. As per usual, the media was going mad for it, giving it all sorts of stupid names like 'Beast from the East'. It was winter weather in winter that included a reasonable amount of snow – we all know how the UK falls to bits if there is snow! I entertained myself locally for the morning before heading to the airport at about 2PM.
I was able to track the late incoming aircraft the flight tracker app. By the time we finally boarded the plane at 18:30, the arrivals board at Edinburgh (best way to see if you are going anywhere!) had all the outgoing flights cancelled and all the incoming flights apart from ours and one from Rome cancelled. I was not feeling confident! Given the weather, and snow cover I thought we were going to get diverted to Manchester, Aberdeen or Inverness.
Half an hour from Edinburgh, the pilot announced that Edinburgh was 'thinking of closing', and indicated that he would 'put his foot down', and try and get there before it did. With snow swirling around the wings, and lots of white roads and motorways visible through the window, I expected another 'sorry but…' announcement but it never came. There was a good covering of snow on the runway, but the Easyjet guy managed to get the aircraft down, and received a (well deserved this time) round of applause from passengers either glad to have landed in one piece or glad to have not ended up in Manchester! (I once lived in Manchester once, but that's another story…!).
It was another 90 Mins before I was re-united with my bag. A combination of the aircraft following a snowplow to the terminal as the edges of the taxiway were hidden, the ploughs clearing the stand, and the baggage handlers freezing their bollocks off!
I tried for a Taxi home to Stirling – 'No way mate – roads are gridlocked' before heading into the office in central Edinburgh (via a still-running tram) and kipping on the floor.

The next day was a work day and about 7 hardy souls who live locally made it in to the office. There were no trains, buses or Taxi's. Eventually, ScroteRail got a limited Glasgow-Edinburgh service running, and knowing that there was no chance of a Stirling train, I got on it to Falkirk high. From Falkirk High I had hoped to get a Taxi to Stirling, and I had also picked up two fellow travellers trying to get to Stirling and beyond. We soon worked out that taxi's were not going to run, and there was so little traffic on the snowy roads that there was no chance of a lift. The lady was struggling in the snow, and there was no way that she was going to be walking to Stirling. We left her at a hotel to try the following day. Me and the other guy whose name I never found out walked at pretty much the same pace, taking about 3 hours to walk the 10 miles to Stirling mostly on the road. I did offer him a bed, but he had a further 8 miles to do that night home to Dunblane!

Many thanks to my Farther and (not-so) Wicked Step Mother for a nice winter break!