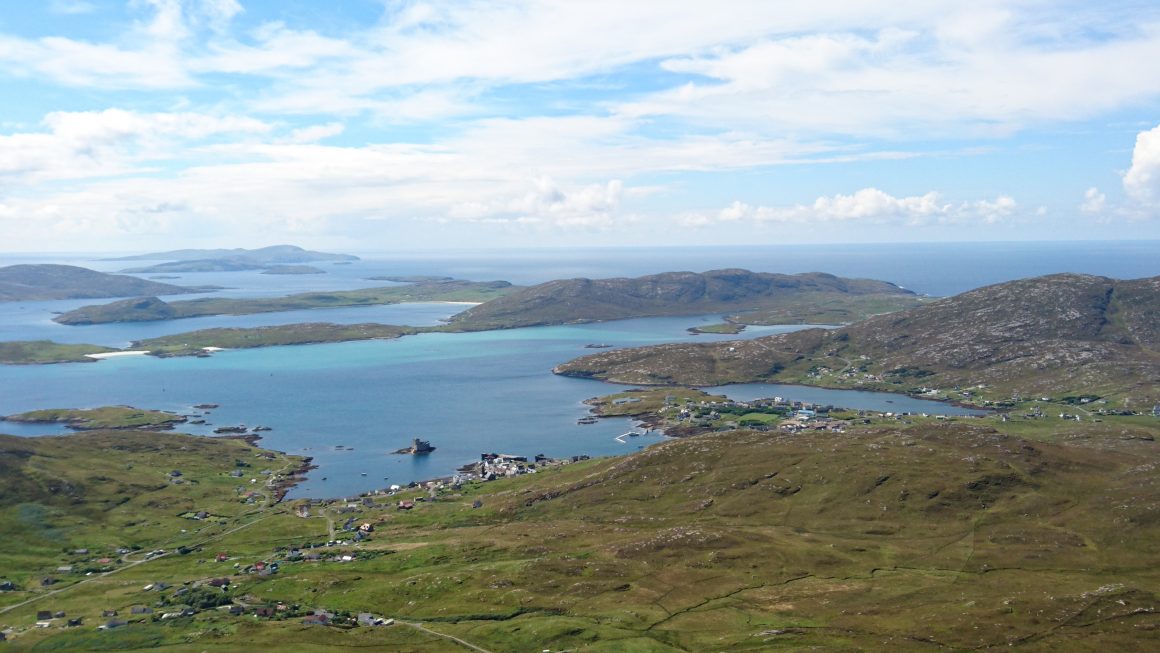 Due to a cheaper ferry crossing, I opted to get the boat from Mallaig to Lochboisdale on South Uist rather than from Oban to Castlebay on Barra. I still wanted a tour of Barra however, and the isle is compact enough to allow for a decent day tour by bike.
I got the early ferry from Eriskay on South Uist to Barra, heading clockwise around the island. This was not my first visit, having previously toured the Outer Hebrides by bike end-to-end with a mate 10-years before.
I had some magic weather, there were views all the way to the Isles of Rum, and Canna. The road takes you the 1st 150-odd vertical metres up to the start of the walk to Heaval, at 384M the islands highest point. The ascent is steep, with ever improving views all the way.
At about the halfway point, there is a white statue of the virgin Mary and child, with a solar lighting setup which should ensure that it's seen from miles around! I deployed the 360 camera that I have had on-loan from google:
Continuing to the summit, I enjoyed the magic views over the islands main village of Castle Bay and out to the island of Vatersay (linked via a causeway). Then it was back down via the same route to the bike.
NB: Plenty more 360's on Google Maps!
There's a nice wee downhill into Castlebay which is busier than I remember from 10 years previous, and full of cafe's.  Hot chocolate and cake were consumed before I got back on the bike. While on the summit, I formulated a plan to return to Barra the next day with the Packraft, the intention being to paddle some of the inlets of Vatersay – so that bit would wait until tomorrow.
I continued on the islands only 'A' road back towards the ferry. Prior to getting the ferry, I had enough time for a detor to Barra's Airport – this is famed for being the only airport in the world that runs scheduled flights using the beach as a runway. I was lucky enough to catch a Twin Otter aircraft taking off:
After a nice ferry ride back soaking up the sunshine, it was time to get prepped for some afternoon adventures in the Pack Raft.