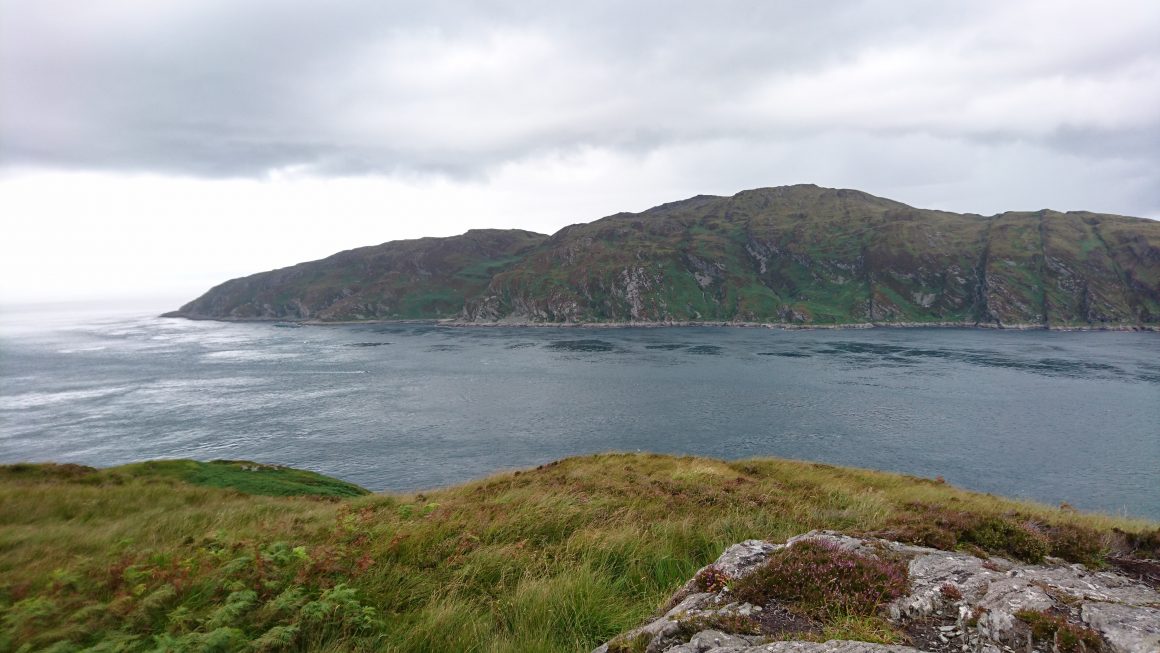 I had many must-do's while I was on Jura, and since the Paps of Jura were still shrouded in cloud, today I decided on the Corryvrecken.  The Gulf of Corryvrecken to give it its full name is a 1KM wide expanse of water sat between the north end of Jura and the uninhabited island of Scarba. It sports a tidal flow that can reach 16KPH, one of the highest tidal flows on the planet, as the sea is forced through the narrow channel.
Its not the tidal flow alone that draws the visitors, but rather the whirlpool that forms due to a rock pinnacle on the sea floor that's almost 200M high. The summit sits just 30M below the surface. When the tide is coming in (flood), water drops into the hole to its east before being forced up and around the pinnacle; it is this that forms the whirlpool.
I headed north along the islands single A-Road in my 6M long motorhome. The road gets narrower and rougher as you travel north and I was glad not to be in anything bigger! From Ardlussa, a final 3 miles see's you at the road-end where there is parking in an old quarry.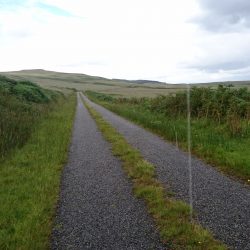 Rough road for final 3 miles

Quarry parking at road end
Having parked the van, I got the mountain bike off the back as its possible to cycle the next 5 miles, which beats walking any day – especially on the return! The going is fairly rough so a proper MTB is your best bet. Eventually, you arrive at Barnhill Cottage – this is where George Orwell penned the famous novel 1984 back in 1947. I stopped for a nosy about.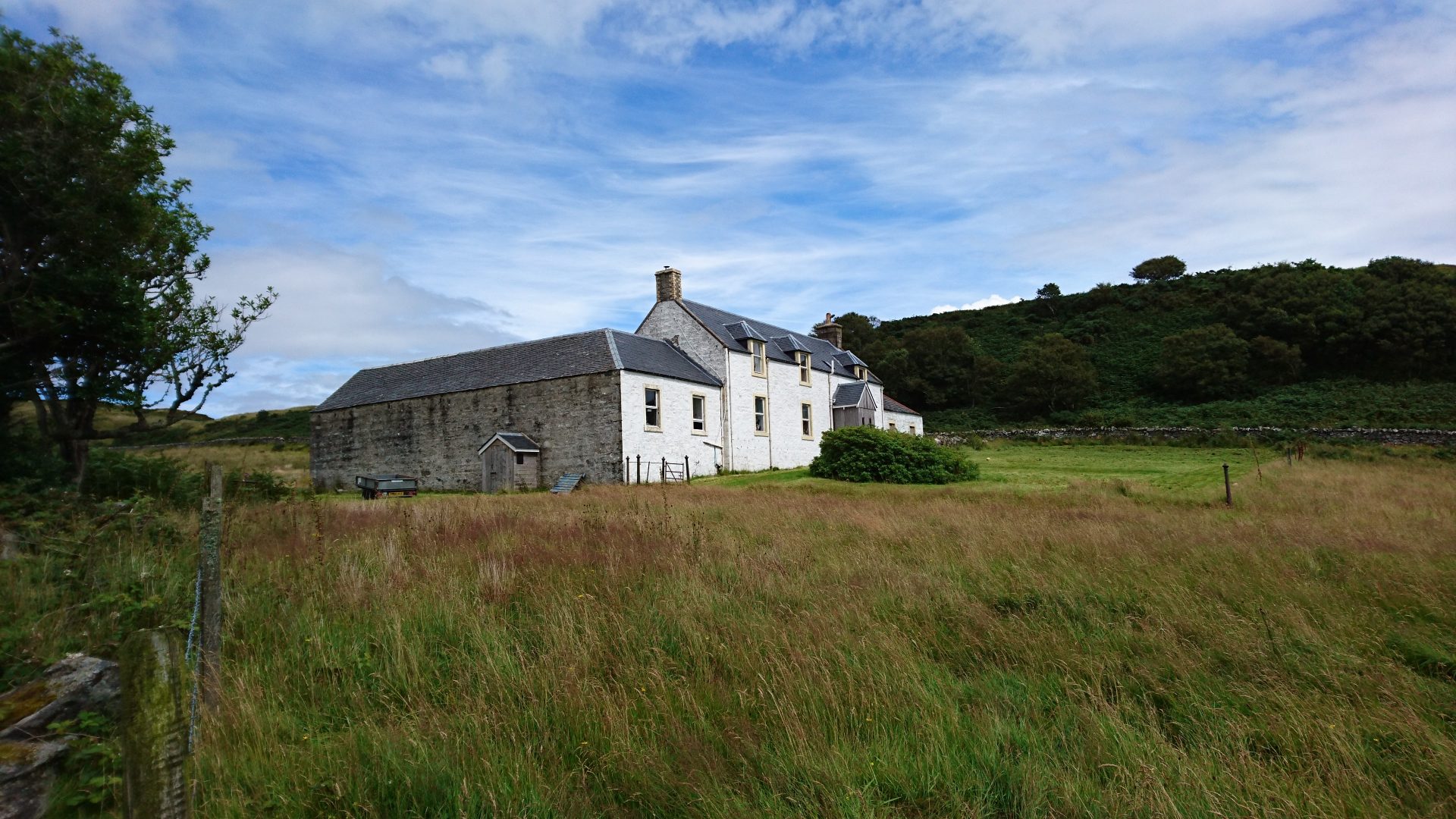 The next section on the bike is wet and muddy and it was not long before I reached the road-end at Kinuachdrachd where I ditched the bike.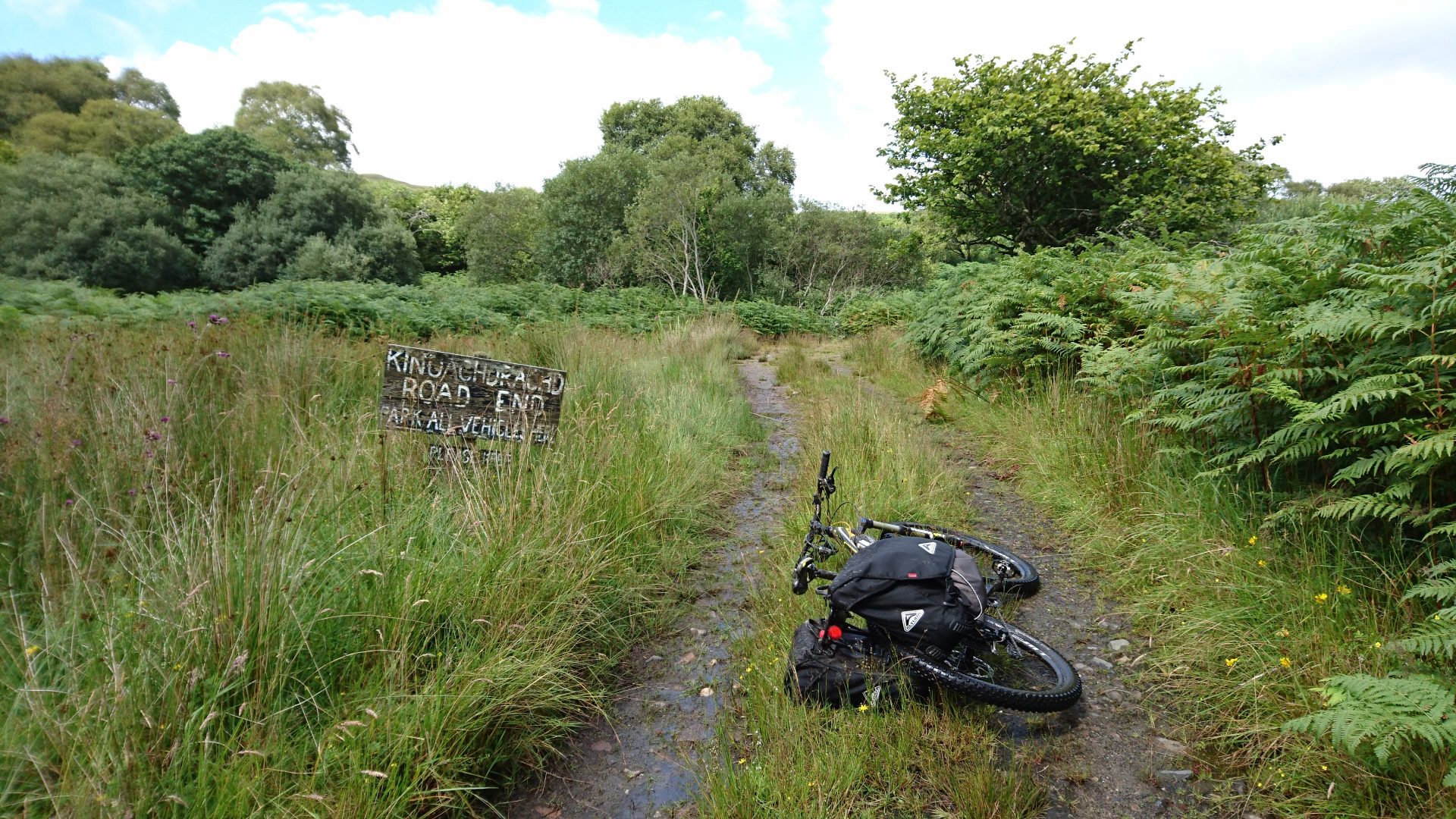 From here, its uphill past the islands most northerly dwelling and then about 2 miles to Jura's north coast and the fabled Corryrvrecken. The first section was a bit overgrown through tall ferns, and not something to attempt in short trousers as the area is renowned for deer ticks. I tucked everything into everything before proceeding!
The walk is a bit boggy in places, the views gradually open out until you see the island of Scarba in the distance. I arrived just before high tide to see some pleasure boats playing around near the whirlpool; the whirlpool was not at its best as the tides were not big when I visited -from the shore it looked like a series of swirls, which completely disappeared in the slack water that came with high tide 30 mins after I had arrived. The rain came on, and I hunkered down in my bivvy shelter cursing it! When the rain went off, I got some 360 photos before heading back to the bike, where I enjoyed a dry cycle all the way back to the van.

Gulf of Corryvrecken
That evening, I parked up at Ardlussa, with a view out to sea, and internet courtesy of my 2-way sat-dish setup (you'll not get a mobile signal on Jura beyond the occasional 2G blip)