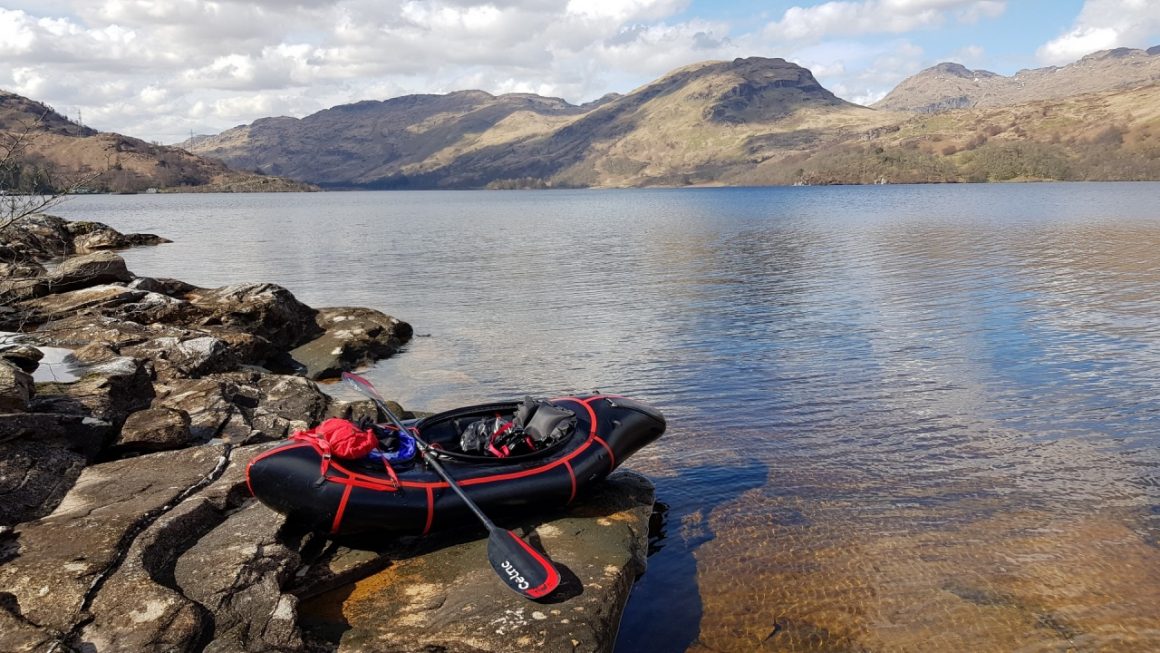 The forecast was decent for Saturday, but rubbish for Sunday so I could not be arsed to drive very far this weekend. Against my better judgement, I paid Loch Lomond and the Trossachs Park's 'Wild Camping Tax' – £8 to stay at the far end of 'Three Lochs Forest drive' near Loch Katrine. To get a spot on here in the summer requires booking a month in advance, but short-notice spots are available out of season.
As one of the vast majority of responsible Motorhome owners (I collect other folks crap leaving my camp sites tidier than when I showed up), I was pretty dismayed at the wild-camping ban and the resulting permit system. The trouble was caused by the minority, and what they were doing: Littering, Hooliganism, Anti-social behavior etc was already illegal and could have been dealt with using existing laws – alas the police/park could not be arsed with this and a blanket ban is easier. I digress…
I located my spot, and planned to cycle from there to partake in my planned activities – thus retaining my prime spot, and avoiding any further parking fees!
[NB: Please remember that Loch Katrine is a reservoir – its where Glasgow gets its water from! Leave no trace and deal with any waste well away from the water and bury and solids! You'll find some Loch Katrine paddle guidelines here] 
Saturday
Loch Katrine was about 4 miles away at Trossachs pier so the boat and kit got loaded into panniers and I set off to find a suitable launching spot; this, I located just over the fence a short distance down the private road (look out for an animal skeleton on a tiny stony 'beach'! Hard-shell boaters would need to continue further along the Loch.
My first port of call was to get a look around the islands at the east end of the Loch – I prefer Lochs with some islands to explore – however due to all the bird-life and my not wanting to disturb anything nesting, I stuck to the water.
Loch Katrine with the Sir Walter Scott (Ghost Ship!)
The weather was grand, although I was paddling into  breeze heading west along the loch. The southern shore, having no road feels nice and remote, and has some nice stony beaches and some plausible camping spots – its also outwith the LLTNPA's 'Camping Management Zone' meaning you can camp here without being seen as a criminal.
Wild Camping Spot!
I continued up the Loch sticking fairly close to the shoreline for the shelter it offered, stopping at another beach on the way – there are loads of them!
Wild Camping Spot!
About 2KM before Stronachlachar on the southern shore, you'll pass the take-off point for Glasgow's water supply. Be sure to give this a wide berth as you'll not fit down the pipe unscathed!   Eventually, I reached Stronachlachar, and paused to look at the map, and admire the views. I was looking forward to the return trip now. I had my Wind-Paddle sail, and was going to get back in double quick time!
Lochs Katrine and Arklet
Then it happened… the wind did a total 180 dead on 4PM as I turned around! and then strengthened to maybe 25MPH. What an utter barstuard! 25MPH might not seem much to some, but in a Packraft it seriously impedes progress!  I crossed over to the northern shore and paddled east on this side for several KM – the wind getting stronger.
Looking across to the southern shore, I felt that I could get some shelter under Ben Venue, so I crossed the loch diagonally (again!) heading for one of the beaches I had been on previously, and took a rest! Fortunately, that plan worked well, and the remaining paddle back to the bike and cycle back to the van was uneventful!
Sunday
Sunday dawned  dreich as forecast, I toyed with the idea of just sacking it and heading home, as I was pretty knackered after Saturdays 20+ KM paddle and 12KM bike 'duathlon'! The rain stopped just long enough for me to commit to the ride before starting again twice as heavy!  I headed back to Loch Katrine and then did the Katrine loop anti-clockwise, to Stronachlachar, into Aberfoyle and back to the van via the Dukes Pass. 35miles, 850M of climbing in about 2.5hours. Right – home time!!