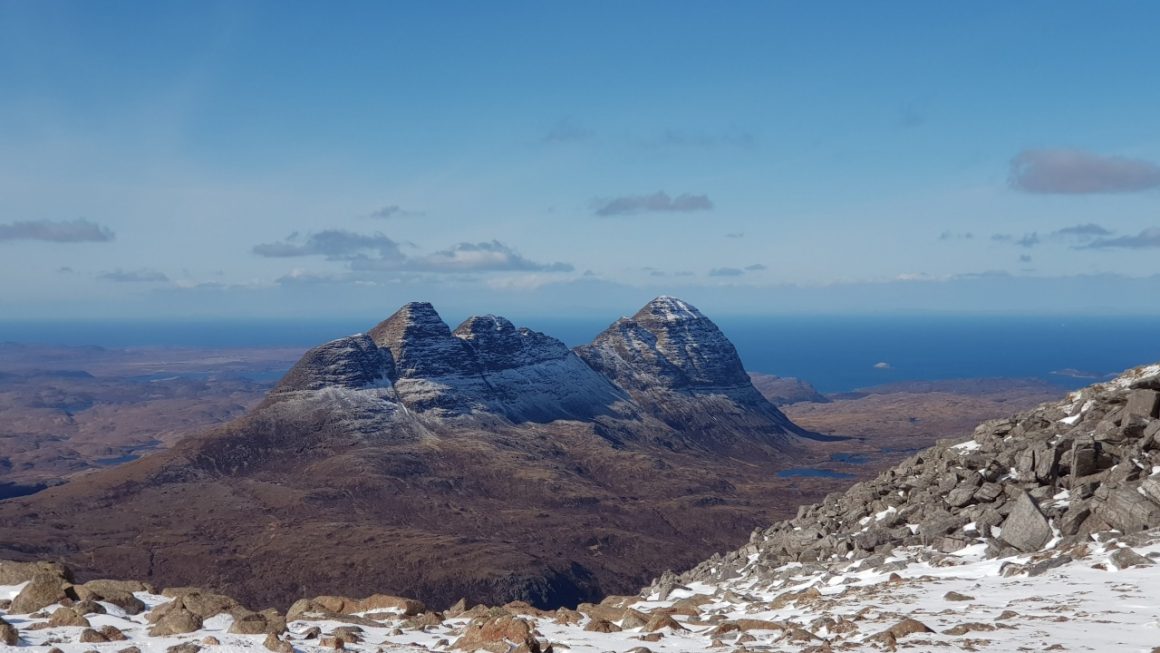 The Assynt region of Scotland, has to be one of my favourite spots. The mountains are not huge, but they are numerous, and rise suddenly and spectacularly from the surrounding landscape of rock, heather and many many lochs for a paddle!
I headed up for Easter, meeting fellow members of the Ochils Mountaineering Club. We were staying at the SMC's Naismith nut in the crofting settlement of Elphin. Being just north of Ullapool, its a fair drive on a Friday night, but I would have arrived in good time had it not been for someone crashing on the A9 just a few miles from home! I arrived before midnight, in time for a beer with the three folks who were still up.
Saturday
The next day, we made a mass assault on the mountain Quinaig; this has three distinct summits – each one of them gets 'Corbett' status having the required height and drop between them. Initially there was snow on the tops, this melting later as the sun got ever brighter and the clouds parted. I had my new drone with me, and set about annoying my hill-walking buddies getting some footage for a future promo video for our club.

Back at the SMC Naismith hut, we were greeted by pies from the Lochinver Pie shop. Mhairi, who was unfortunately injured had been on pie fetching duty. Its always a nice treat, a Lochinver pie, and their pudding pies are superb too.
Sunday
Sunday dawned fine, but then quickly went pear-shaped – it suddenly started snowing laying down 2″ before stopping just as abruptly. My plan was to packraft up Loch Veyatie towards Fhionn Loch on an exploratory for a future trip. The early morning snow meant a late start. I set off into the breeze which had turned westerly (180° contrary to the forecast!).
During my trip along the loch, I got sunshine snow and hail – a good character building Scottish mix of weather! During a sunny spell I sent my drone up for a wee 360 photo:
Drone view Loch Veyatie
Towards the Veyatie's western end, it is possible to enter Loch a' Mhadail via a shallow section and a lovely beach. On the way in here I met a couple of paddle boarders and a fellow packrafter who were doing a linear trip from Boat Bay to Elphin. I got me a few photos and then headed for Fhionn Loch.
Veyatie drains into Fhionn Loch via a river that links the two and I would have the current to contend with on the return. Given my late start, I opted to head that way until the current got too strong to paddle back (thus avoiding having to drag the boat back up-stream across the heather!). This got me under the imposing south face of the mountain 'Suilven', but unfortunately the cloud still clung to its upper slopes.
The trip back begin with an energetic paddle against the river to get back into Loch Veyatie. It then took me another 90mins of paddling to get back to Elphin thankfully with the wind now behind me.
Loch Veyatie – look down for the beach!
Monday
I had half a mind to get out in the boat again on Monday, but the wind was howling in from the east, and it was bloody cold, so I opted to head up Canisp with Colin (Kermit) instead. This proved to be a great choice with spectacular views to Suilven and the surrounding mountains all day. Howling, and bloody cold on the summit. Did not feel like April at-all!
Its always hard to leave this part of Scotland and head home, but alas, work is what pays for the breaks. I really cannot wait until I am retired! Thankfully the return trip was much less problematic than the journey north, and my usual en-route stop at the House of Bruar came up at the right time for a spot of dinner and a shower in the van.