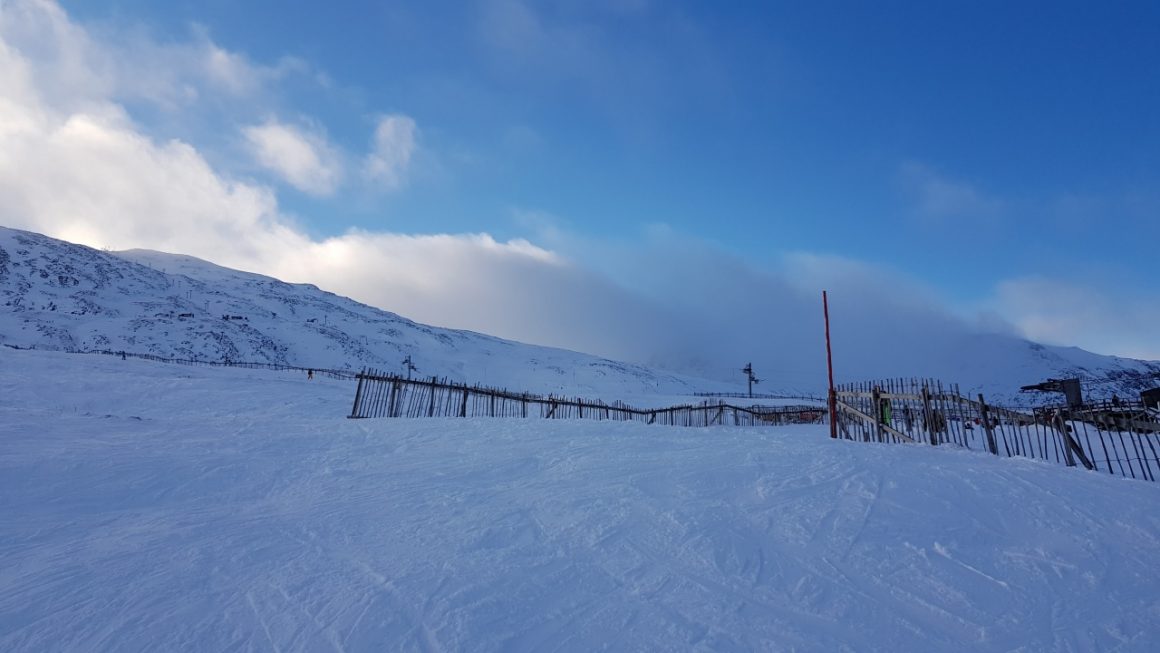 We enjoyed negative temperatures for most of last week, and significant snowfall in the hills. It was time to go Skiing! Glenshee, my usual choice had little to offer ditto Nevis Range, the Lecht looked good, but is bloody miles away, and I would rather not hand the assholes at Cairngorm any money! Glencoe is is then!
I arrived Friday eve to an already busy (with camper-vans) car park, I knew it was going to be busy tomorrow, so a combo lift-served and touring outing was a must. I knew some of the guys who were hauled up at the Black Rock cottage nearby with the Braes O' Fife Mountaineering Club  a short walk from the ski centre car park so I headed down there for a couple of hours.
The next morning, the guys at Glencoe took bloody eons to start flogging tickets, and it was about 9:30AM before I was on the chairlift. I had a few runs to get the ski legs back before the crowds turned up, and then donned the skins at the top of the lift served area for a skin up the final 250-odd vertical meters remaining to the summit.
From the summit, its 2400ft of descent down to the car park, the final bit alongside the chairlift being a fairly rare treat to ski – though it got pretty 'Scottish' towards the end! After lunch in the van, I took the lifts and skinned back to the summit. The top tows came on for the final 20mins of play so a few more runs were done before another descent via a different route to the car park in near darkness! On that final run, I was glad I was on my rock-hoppers – sparks galore coming off  skis low down.
That evening, I again managed to gate-crash the Braes O' Fife MC's hut meet for some banter and music – quite  a few folks in that club appear to play the guitar though some required more encouragement than others! Cheers for making me welcome folks!
The following morning, it was 8 degrees and pissing with rain. I fixed up some stuff at our own clubs cottage, and headed back to Stirling to do some xmas shopping! Since then its just got warmer and warmer. Glad I skied when I did as there bugger all chance now!