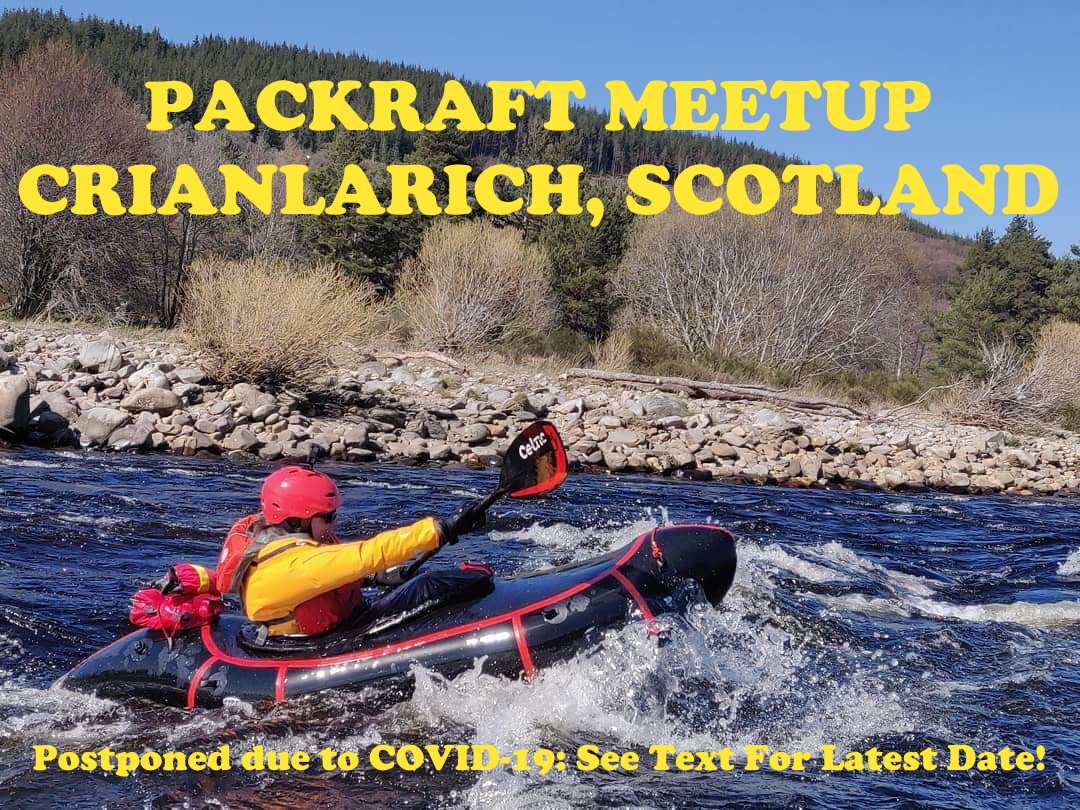 COVID-19 (Coronavirus)
(04/05/20, 12:40)
After a Facebook discussion via Packrafting UK, this meet has been moved to May 2021. The new date is 14th-16th May 2021. Core nights are the Friday and Saturday, there were several folks staying the Sunday night, these bookings have been carried forward to 16th May 2021. Hopefully something to look forward to; with a bit of luck, COVID-19 will, by then be an unpleasant, but distant memory! If folks really cannot make this, let me know and I'll see what I can do regarding refunds. Refunds will be out of my own pocket, so please don't everyone ask!
(02/05/20, 12:40)
Obviously the original May date 15th-17th is not possible, the backup date as mentioned previously is 21st-23rd August; this is the currently aimed for date. HOWEVER I'm trying to be realistic, and any meetup in 2020 is beginning to look rather unlikely. Social distancing provisions are likely to last for many months after the lock-downs end, folks are having to travel for this, some from abroad travel arrangements can't be made until the future becomes clearer, and by then it will likely cost a fortune to go anywhere given the short notice.
What to do? – I am minded to simply shift the whole thing to a weekend 1st half of May 2021 – at least then, it becomes something that folks can again plan for, organise travel for etc. I'll post up on the Facebook groups and see what folks think.
(18/03/2020, 14:10)
Hi all, If you saw my message on Facebook, you'll know that this meet will likely be postponed. The original date, 2-months away is currently being held, but lets be realistic, it is now unlikely. The backup date is weekend 21st/22nd/23rd August, but I am seeking a cancellation on the hut that would allow us to push this into September or Early October when there just might be more water about vs August! I will keep folks up-to-date via this page and on Facebook. Hopefully all will be able to make the new date. If this gets cancelled, or partially cancelled (eg reduced numbers), then the money I do get back will obviously be returned to those booked on the meet, but at the moment, I would rather live in hope that the meetup can somehow be saved!
Where and When?
Where: Crianlarich, Scotland.
When: 14th-16th May 2021 (Friday and Saturday Nights) [Longer stays possible]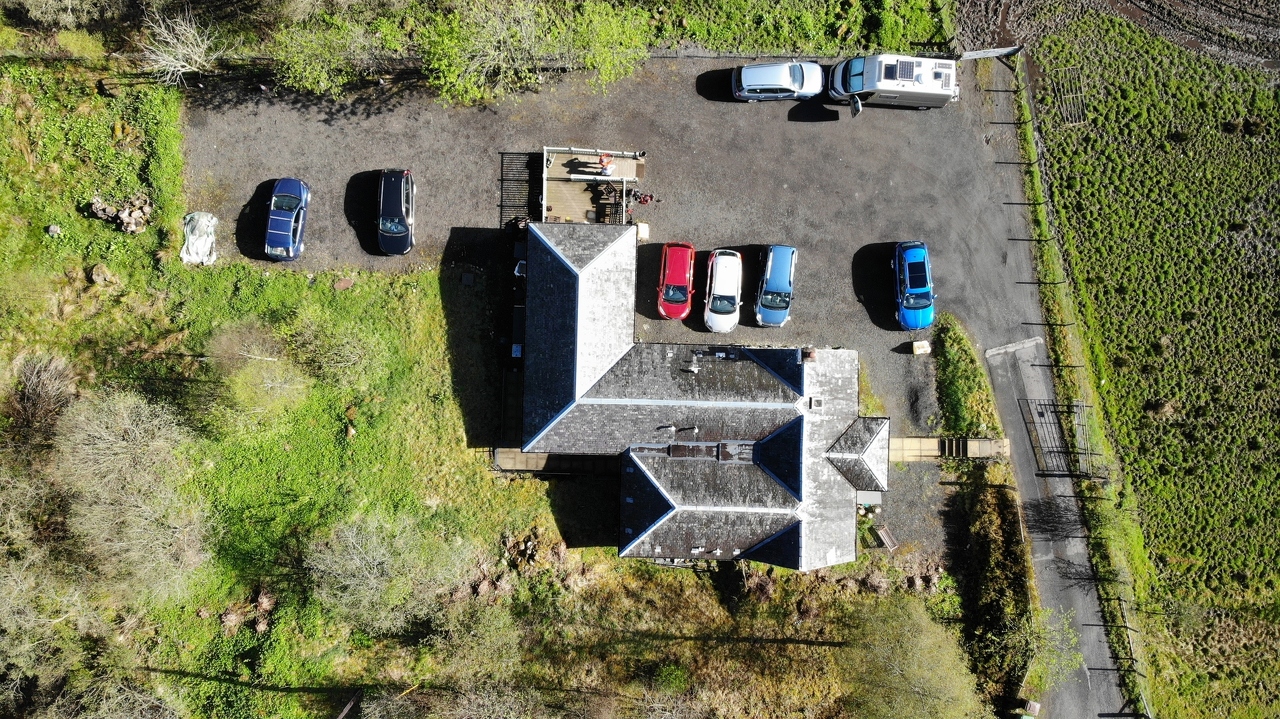 Who's Invited?
Everyone!! Packrafters, packraft-curious folk, wannabe packrafters, hell even Kayakers!!
Obviously most folks will be UK-based, but if you are oversea's you are more than welcome too!
Anyone who can offer up courses/tuition/packraft hire/etc is most most welcome!
Whats the accommodation options?
The Ochils Mountaineering Club Cottage has been booked for the event, sleeps 18 in 2 dorms. [£12pppn]
There are options for Motorhomes, next door at the Ben More Lodge (I have OK'ed this with them) (self-contained only – no hookups/water/waste disposal/awnings!)
Poss to also park at the hut for Vans ~5M, with full use of hut facilities (no hookups!) but you'll need to pay for a hut space £12/night (see end of this page)
Inverardran Guest House is directly opposite [from £39/night]
The Ben More Lodge also has lodge style accommodation [From £39/night sharing]
Nearest official campsite is in Tyndrum, 6 miles away.
Due to distance for the majority of would-be attendees, I am not expecting the same turnout as for the recent Bala get-together!
Why Here?
Crianlarich is my local stomping ground, and the mountaineering club I am in has a hut here which we will use for the main, cheap accommodation.
Hut will be the focal point for the social side of the meetup. Hoping to get Andy's big tent up outside for some undercover outdoor space
Its easy to get to, Crianlarich sits on the A82/A85. There is a train station <10 mins walk from the hut
Take the train it to Glasgow then get another train at Glasgow Queen Street (Fort William or Mallaig) getting off at Crianlarich.
Or… fly to Glasgow then hop on the Airport bus to Glasgow Queen Street and get the train from there.
Many rivers nearby! The River Fillan flows past the rear of the hut, and into the R.Dochart.
For the WW experts, providing there's water, you have the rivers Falloch, Orchy, Etive, Leny, Lyon (nutty videos in the links! mostly Gr3-4)
The Fillan and Dochart are flat near the hut. The Dochart has several sections of rapids @ Gr2-3 10 mins west and ends with the infamous Gr4 Falls of Dochart
Further afield, the Balvag is flat to gr1 (in spate!) between Lochs Voil and Lubnaig (bike rafting?!) While the Teith (my vid | my blog) is a bouncy 1-2.
Many Lochs Nearby! Within 100M walk from the hut, the Fillan provides flat-water access into Loch Dochart and onto Loch Lubhair
Loch Dochart features its own castle on an island which is worth a visit. Loch Lubhair would be great for flat-water tuition
Island Hopping on Loch Lomond, or stick to the (closer and quieter) northern end (visit its Island)
Bike-Rafting on Loch Tulla (visit the island). Bike out to Loch Lyon via WHW paddle loch, cycle back.
Half-Rannoch Crossing (doable as a day trip). Drive to Bridge of Orchy, cycle to Rannoch Mor, leave bikes Paddle to Rannoch Station (via lochs Ba+Laidon), 18:30 Train back (my vid | My Blog)
Loch Awe with its Islands, Loch Tay with its Island! (I have a bit of an island obsession!)
Cake trip to the cafe at Stronachlachar (Loch Katrine) or the pub at Inversnaid via Loch Lomond and Loch Arklet (Paddle down, water taxi+bus back is poss!)
Go look at the map and put your own journey together.
BBC Countryfile is filming a seasonal 4-parter in Glen Dochart, the 1st of which can be watched on iPlayer here.
Usual disclaimer: As has been talked about before, as packrafters we have to be careful not to 'disgrace ourselves' in the paddling community – new sport and all that! This goes for both river trips and paddling large bodies of water. Check the video's above and the guidebooks for grades, and paddle within your grade. Any trips organised will be peer-led, and those organising this meet-up take no responsibility for stuff going pear shaped! I would hope to attract the attention of folks capable of offering up courses such that attendees can improve their skill-sets and decision making.
The Local Area
About The Accommodation
Decent size kitchen/socialising area with separate lounge
accommodation over 2 dorms 8 bed and 10 bed
Toilets, 4x showers
Parking for ~15 cars/vans with overflow next door/top of driveway
The cottage has plenty of space for evening socialising, we can BBQ / Firepit in the garden
If the midges are not yet out, then there's plenty of outdoor space.
There is a pub right next door and two in the village as well
Shop in the village
Pub-grub planned Saturday eve
For folks staying on/arriving early, Crianlarich is surrounded by many Munros. We have a webcam pointed at Ben More, the highest mountain in the area @1174M
Booking
To book a bed in the hut, you'll need to send me some cash. The min is Fri and Saturday nights (£12 per person per night) If you wish to stay an extra night (eg the Thursday or Sunday), shout beforehand, as I will need to check, but it should be OK. Fill in the form below and I will contact you with payment info.
If you are interested in a Sat eve group meal at the pub next door, mention this also.
Campervan folks wanting to park at the hut (max length ~5M) should book in with everyone else £12/night (per van, not per person) (full use of hut facilities, outside tap, but no hookups or toilet disposal!)
If I end up with more than the £432 I need to cover the hut, i'll share it out!
List of Folks Coming
OMC Club Cottage
In The Hut (18 beds) £24 Received
1 Michael D (2 nights Fri+sat)
2 Aaron P (2 nights Fri+sat)
3 Ian W (2 nights Fri+sat)
4 James C (2 nights Fri+sat)
5 Paul T (2 nights Fri+sat)
6 Natasza N (3 nights Fri-Mon)
7 Dean H (3 nights Fri-Mon)
8 Mary D (3 nights Fri-Mon)
9 Mark E (3 nights Fri-Mon)
10 Dave W (2 Nights Fri+Sat)
11 Matthew S (2 Nights Fri+Sat)
12 Michael M (2 Nights Fri+Sat)
18
Vanners @ Cottage (with use of hut facilities, no EHU/Toilet disposal!) Cash Received
1 Karen W (2 nights Fri+sat)
2 Gordon B (2 nights Fri+sat)
3 Ian F (2 nights Fri+sat)
4 Fraser K +1 (2 nights Fri+Sat)
Interest noted from:
Nick T
John M + 2
Motor-homes – Next door at the Ben More (has now been agreed)
1 John C
2 Andy T +1
3
4
This has been agreed for ~5 vans. Self contained vans only, no water/waste disposal/EHU/awnings/dribbling waste/chairs outside! If you need facilities (small vans only), see above. It would assist in the good feeling with our neighbours if those staying at the Ben More considered the group meal below!
Other Accommodation
(eg The Ben More Lodge next door, NB, this is close to booked up already ~£39/night sharing)
1
2
3
Let me know if this is you and i'll keep a record here. Book directly with the Ben More Lodge
Folks eating next door at the Ben More (Sat Eve Group Meal)
1 Karen W
2 Michael D
3 James C
4 Nick T
5) Gordon B
6) Natasza N
7) Dean H
8) Mary D
9) Mark Evans
10) Dave W
11) Michael M
12) Fraser K + 1